OVERVIEW
Outdoor Bus Station LCD Digital Signage is used to display traffic information at bus stops, broadcast public dynamic information and commercial advertisements. It is equipped with a high-quality outdoor LCD screen with a resolution of 1920 * 1080/3840*2160.

The backlight of the liquid crystal display adopts high-brightness LED and constant current drive technology, which can make the display brightness reach 2500cd/m² or more, and realize visibility in the sun. Single-sided and double-sided are available. Any size can be customized. The protective glass in front of the screen of the whole machine adopts 6mm AR toughened glass, the light transmittance ≥97%, high light transmittance, anti-reflection. The device is designed to 7*24 hours of uninterrupted work, with a service life of up to 60,000 hours. And has a good heat dissipation system, adapt to the ambient temperature of -20℃-60℃. The opening method of the upper and lower doors is easy to maintain, and the vandal-proof glass can ensure safety in the public environment.
APPLICATION
This kind of LCD display is specialized used for showing bus information or metro information in outdoor enviroment, The device can be switched on and off remotely. It is very suitable for bus or railway station application.
CUSTOMER CASE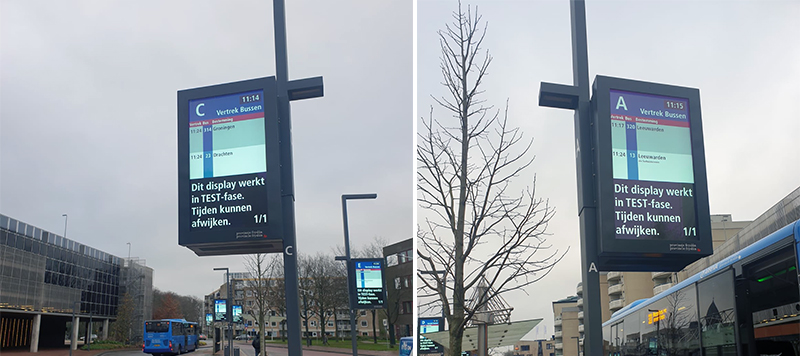 65inches outdoor LCD Display for Flyslan Bus Station
PARAMETER
Model Number

YHAP550-OD03(55 inch)

YHAP650-OD01(65 inch)

Backlight

LED Backlight

LED Backlight

Active Display Area

1209.6mm *680.4mm

1428.48mm*803.52mm

Brightness

2500cd/sqm

2500cd/sqm

Brightness Control

Smart brightness control, could automatically adjust to the changing light brightness

Resolution

1920*1080/3840*2160

1920*1080/3840*2160

Aspect Ration

16:9

16:9

Contrast Ratio

1200:1

1000:1

Pixel pitch

0.4686(W)mm * 0.4686(H)mm

0.744(W)mm * 0.744(H)mm

Viewing angle

89°/89°(L/R),89°/89°(U/D)

89°/89°(L/R),89°/89°(U/D)

Display Color

16.7M

16.7M

Response time

10ms

10ms

CPU

Intel Celeron Processor J1900 SoC four core, 2GHz or Customizd

Memory

DDR3L 1066/1333/1600MHz,4G or Customizd

SSD

64G or Customizd

Input Interface

VGA, HDMI, USB, RJ-45, SDI, WIFI(option)

HDMI

Cooling method

Air cooling cycle

Air cooling cycle

Working Voltage

AC100-240V 50/60Hz

AC100-240V 50/60Hz

Power Consumption

≤300W(Average)

650W+500W (±10%)(heater:500W)

Standby Consumption

3W

3W

Case

Aluminum frame + Bending welding of cold rolled steel + Power coating + AR Toughened glass

Dimension(W *H *D)

Depend on Customer Project

Depend on Customer Project

Operating Temperature

-20℃~50℃

-20℃~50℃

Storage Temperature

-30℃~60℃

-30℃~60℃