OVERVIEW
The indoor LCD display for bus information or advertising is an information display device installed inside a bus or urban rail transit to play public information, commercial advertisements and other content. The device uses Android operating system and a high-definition 21.5/23.8/27/28 / 37-inch display, Due to the particularity of the installation environment, all products series has passed a special shock-proof test SAE-J1455. Also all products support GPS/WIFI, 4G, temperature protect etc, usually one master display and two slave display, product quality is superior, with 700cd/m2 brightness and 80,000 hours working life.
PRODUCT FEATURES
√ 1920*1080pixels or 1920*540pixles resolution
√ LED backlight, brightness up to 700 cd/m2
√ Suitable for Indoor installation,
√ Smart brightness control, could automatically adjust to the changing light brightness
√ Rich outputs for various application
√ Made by Alum casing, beautiful and fashionable, anti-rust, anti-graffiti
√ Meet with Automotive Standards Certifications SAE-J1455
√ Long life time: 50000-80000 hours
APPLICATION
This kind of LCD display is specially used for showing bus information from public transport system or showing advertising.
CUSTOMER CASE
USA 23.8inches Indoor On-Board LCD Dispaly inside Bus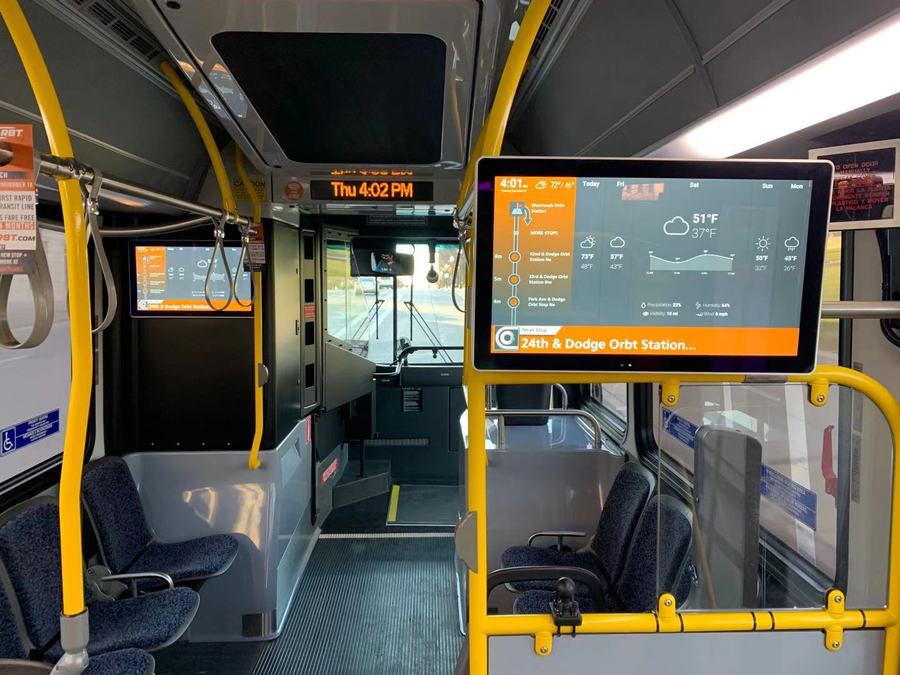 PARAMETER
Model Number

YHAP238-02(23.8 inch)

YHAP370-02(37 inch)

Backlight

LED Backlight

LED Backlight

Active Display Area

527mm X296mm

899mm X253mm

Brightness

700cd/sqm

700cd/sqm

Brightness Control

Smart brightness control, could automatically adjust to the changing light brightness

Resolution

1920*1080

1920*540

Aspect Ration

16:9

16:9

Contrast Ratio

1100:1

1100:1

Pixel pitch

0.2745(W)mm X 0.2745(H)mm

0.4686(W)mm X 0.4686(H)mm

Viewing angle

89°/89°(L/R),89°/89°(U/D)

89°/89°(L/R),89°/89°(U/D)

Display Color

16.7M

16.7M

Response time

12ms

12ms

Input Interface

HDMI, DVI,VGA(Option)

HDMI, DVI,VGA(Option)

Touch Panel

Capacitive touch screen(Option)

Capacitive touch screen(Option)

Speaker

10W speaker

10W speaker

Cooling method

Air cooling cycle

Air cooling cycle

Working Voltage

AC100-240V 50/60Hz

AC100-240V 50/60Hz

Power Consumption

≤80W(Average)

≤80W(Average)

Standby Consumption

3W

3W

Case

Alum casing(Metal casing option) + Power coating + AR Toughened glass

Dimension(W x H x D)

Depend on Customer Project

Depend on Customer Project

Operating Temperature

-10℃~50℃

-10℃~50℃

Storage Temperature

-20℃~60℃

-20℃~60℃