OVERVIEW
Outdoor IP65 High Brightness Free Maintainance LCD Display is available in both single and dual side. As an outdoor digital signage, it can work for many occasions and different projects, such as outdoor applications in bus stations, municipal projects, tourism, retail, transportation and hotel industries. The full outdoor LCD display has an ultra-high brightness of 1500~3000 cd/m2, and has an automatic dimming function, which can transmit clear and visible information even in direct sunlight.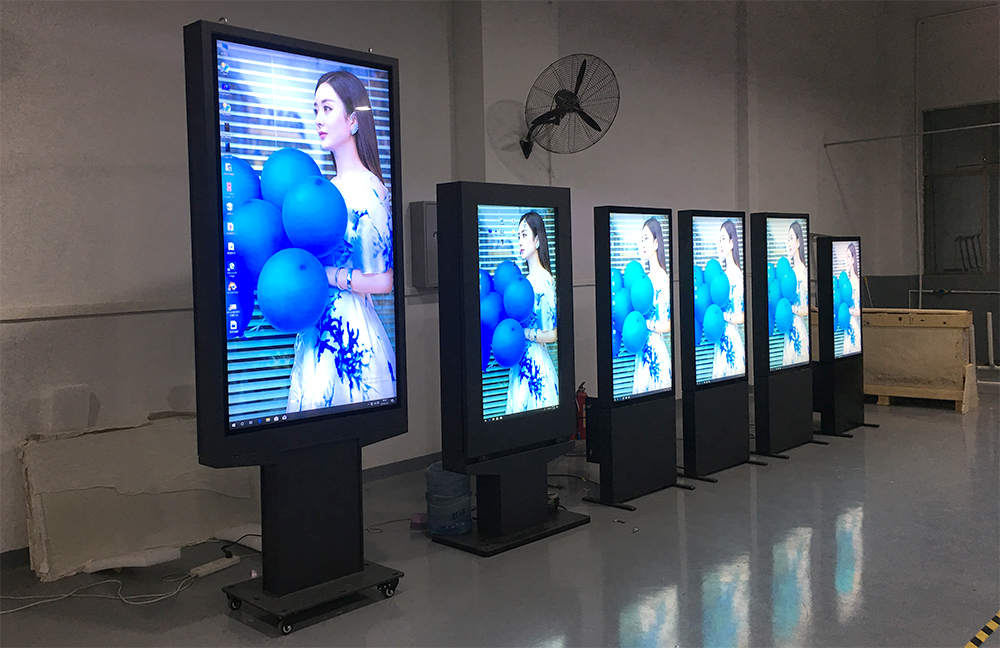 The protective glass of the whole panel is made of 6mm full high temperature AR glass, which has good high light transmittance and anti-reflection performance.Certified by IP65, it has toughness under extreme conditions, can withstand dust, water, rain, snow, sleet and corrosion, and also has excellent vandalism resistance.The powder-coated aluminum structure provides excellent corrosion resistance and protects the elements. The air inlet and outlet are specially designed for high-efficiency dust-proof filters, which can filter dust in the air and prevent insects like mosquitoes from entering the machine. Good heat dissipation performance, adopts integrated intelligent direct ventilation and heat dissipation system, special air duct and special air duct heat dissipation design.
The internal air is circulated and exchanged with the external air, and the external air enters the dust-proof filter for filtration, and is divided into two air ducts behind the front panel of the panel to ensure the temperature. Fans or air conditioners can be used for heat dissipation according to the needs. It has a wide range of configurations, such as a single media player, Android network, Windows network options, and wall-mounted, stand-alone, pole-mounted options and other formats to ensure that it can meet the requirements of various outdoor display applications.
APPLICATION
This kind of LCD display is specialized used for bus stations, municipal projects, tourism, retail, transportation and hotel industries...
CUSTOMER CASE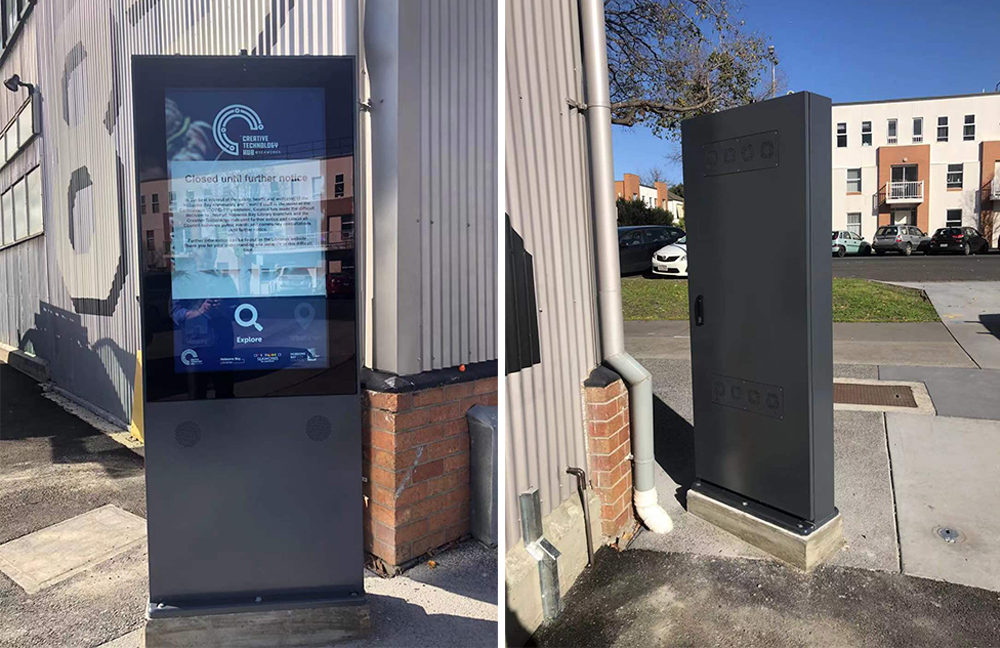 46inches outdoor IP65 LCD Display in Melbourne, Australia
PARAMETER
Model Number

YHAP460-OD(46 inch)

YHAP550-OD

(55 inch)

YHAP650-OD

(65 inch)

Backlight

LED Backlight

LED Backlight

LED Backlight

Active Display Area

1073.78mm*604.0mm

1211mm*682mm

1433mm*808mm

Brightness

2000cd/sqm

2000

cd/sqm

2000~2500cd/sqm

Brightness Control

Smart brightness control, could automatically adjust to the changing light brightness

Resolution

1920*1080

1920*1080

3840*2160

Aspect Ration

16:9

16:9

16:9

Contrast Ratio

1200:1

1

5

00:1

1500:1

Pixel pitch

0.55926(W)mm * 0.55926(H)mm

0.

63

(W)mm * 0.

63

(H)mm

0.4296(W)mm * 0.4296(H)mm

Viewing angle

89°/89°(L/R),89°/89°(U/D)

89°/89°(L/R),89°/89°(U/D)

89°/89°(L/R),89°/89°(U/D)

Display Color

16.7M

16.7M

16.7M

Response time

10ms

12ms

12ms

Operating System

Windows 10 ,Android(Option)

Touch Panel

Capacitive touch screen(Option)

Input Interface

VGA, HDMI, USB, RJ-45, SDI,WIFI

HDMI, DVI

HDMI, DVI

Cooling method

Air cooling cycle or industrial air conditioning

Working Voltage

AC100-240V 50/60Hz

AC100-240V 50/60Hz

AC100-240V 50/60Hz

Power Consumption

≤260W (Average)

≤350

W

(Average)

≤500W(Average)

Standby Consumption

3W

3W

3W

Case

Aluminum frame + Bending welding of cold rolled steel + Power coating + AR Toughened glass

Dimension(W *H *D)

Depend on Customer Project

Depend on Customer Project

Depend on Customer Project

Operating Temperature

-20℃~50℃

-20

℃~50℃

-20℃~50℃

Storage Temperature

-30℃~60℃

-30℃~60℃

-30℃~60℃