OVERVIEW
Outdoor Railway Station LCD Display is specially designed for installation in places exposed to direct sunlight, and has high protection against outdoor conditions. Railway information kiosks are produced in single-sided or double-sided formats, with 32-inch,37-inch, 43-inch, 46-inch and 55-inch screens.
It has a strong rigid aluminum structure and 6mm AR bonded toughened safety glass, which has excellent anti-damage performance. It is outdoor waterproof, dust-proof, sun-proof, anti-corrosion, explosion-proof, anti-corrosion, supports 24/7 work, and its normal operating temperature is -20°C to +60°C, which brings good vision and hearing to outdoor information exchange enjoy.

The outdoor wall-mounted LCD screen is used as a digital signage in railway stations, subway stations, stadiums, airports and other public places to display trains entering and leaving stations. Inform passengers of all necessary travel parameters, such as arrival/departure, platform number, destination, intermediate station, possible delays, train type and number. Anti-reflective glass makes the display easy to read even in sunlight.
Our outdoor advertising player has built-in android or Windows or linux operating system, with powerful CPU and graphics processor, which enables you to process more demanding graphics, thereby delivering more attractive and immersive information.
APPLICATION
This kind of LCD display is specially used for showing railway information from public transport system.
CUSTOMER CASE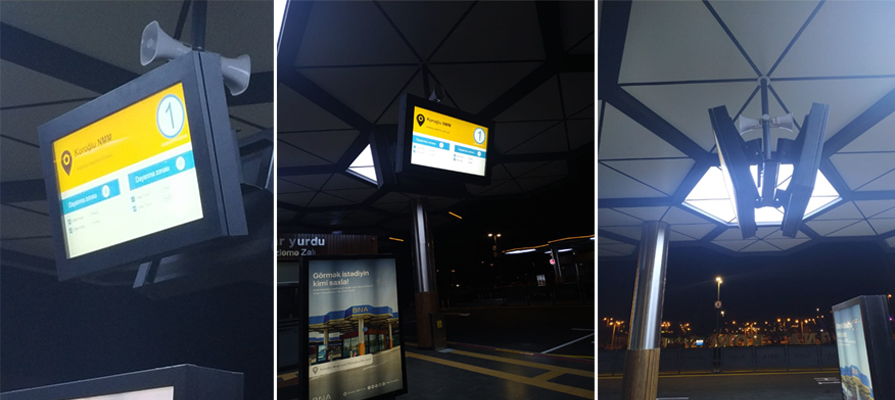 Azerbaijan train station Outdoor Railway Station LCD Display case
PARAMETER
Model Number

YHAP370-01(37 inch)

YHAP460-01(46 inch)

YHAP550-01(55 inch)

Backlight

LED Backlight

LED Backlight

LED Backlight

Active Display Area

899mm*253mm

1020mm*574mm

1210mm*682mm

Brightness

2000-2500cd/sqm (3500cd option)

2000-2500cd/sqm (3500cd option)

2000-2500cd/sqm (3500cd option)

Brightness Control

Smart brightness control, could automatically adjust to the changing light brightness

Resolution

1920*540

1920*1080

1920*1080

Aspect Ration

16:9

16:9

16:9

Contrast Ratio

1100:1

1100:1

1100:1

Pixel pitch

0.4686(W)mm * 0.4686(H)mm

0.53(W)mm * 0.53(H)mm

0.63(W)mm * 0.63(H)mm

Viewing angle

89°/89°(L/R),89°/89°(U/D)

89°/89°(L/R),89°/89°(U/D)

89°/89°(L/R),89°/89°(U/D)

Display Color

16.7M

16.7M

16.7M

Response time

12ms

25ms

25ms

Speaker

Optional accessories

Touch Panel
Capacitive touch screen(Option)
Input Interface
HDMI, DVI, VGA(Option)
HDMI, DVI, VGA(Option)
HDMI, DVI, VGA(Option)
Cooling method
Air cooling cycle
Working Voltage
AC100-240V 50/60Hz
AC100-240V 50/60Hz
AC100-240V 50/60Hz
Power Consumption
≤200W(Average)
≤250W(Average,without heater)
≤350W(Average,without heater)
Standby Consumption
3W
3W
3W
Case
Alum-casing(Metal casing option)+Power coating+AR Toughened glass
Dimension(W *H *D)
Depend on Customer Project
Depend on Customer Project
Depend on Customer Project
Operating Temperature
-10℃~50℃
-10℃~50℃
-10℃~50℃
Storage Temperature
-20℃~60℃
-20℃~60℃
-20℃~60℃
Tag: LCD Screen for Railway Subway Station, 32inch/46inch Outdoor Information LCD Board, passenger information lcd display