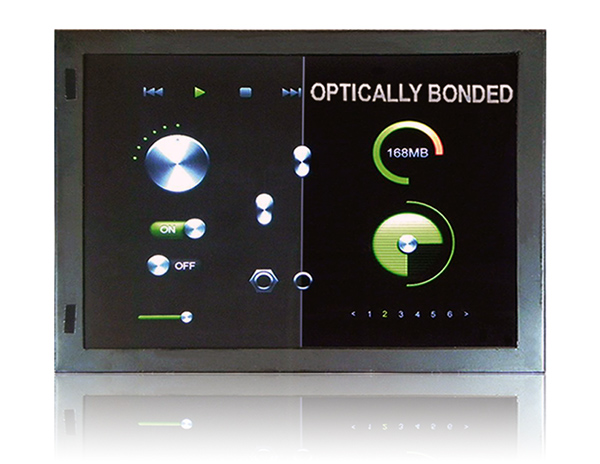 Generally, the visibility of liquid crystal displays under sunlight or strong light is lower because of the reflection on the surface of the LCD screen. In order to achieve clear or clear display of the LCD screen under sunlight or strong light, the general processing method has increased the brightness of backlight. Two, add special treatment on the LCD panel to make the light pass through without reflecting. Increasing the highlight backlight can improve the visual effect of LCD screen in strong light. There are also some defects in it, such as increasing the brightness of colleagues, and increasing power consumption. This needs to solve the problems of heat dissipation, anti vibration, and impact resistance.

Bonding is a technical scheme to enhance the LCD screen's optical performance. It can make LCD screen still visible under all kinds of strong light lines, and it can perfectly solve the problem of outdoor LCD display. After that, the LCD screen has bright, clear and readable optical performance. It can be adapted to outdoor all-weather display. It is highly liquid crystal display enhancement technology with high technology content. Its main advantages are: in the sunlight, we can see clearly the fine images and characters, vivid colors, contrast enhancement, low emission light and wide viewing angle. Using the LCD technology of bonding technology, users can read and display contents and images clearly under the direct sunlight, which can fully meet the actual needs of the army outdoor display equipment, outdoor advertising display and business presentation. The use of the LCD screen bonding technology, can absorb vibration effectively, has good anti shock and anti vibration, can eliminate the phenomenon of water pressure liquid crystal screen appears, enhance the waterproof performance and heat dissipation performance and excellent performance such as low pressure. It can adapt to all kinds of bad environment and effectively prolong the service life of LCD screen.
Optical bonding to realize the principle of visible light under strong light: to increase the readability of the LCD screen under strong light, it is necessary to increase the external contrast of the LCD screen. Optical bond is to increase the external contrast by reducing the brightness of the reflected light on the surface of the LCD screen. The optical bond display glass is bonded to the front surface of the liquid crystal screen with a transparent optical adhesive. Because the refractive index glass of the optical adhesive is almost the same, it is 1.49, so two reflectors are eliminated. At the same time, the surface surface of the bond glass is plated with a AR antireflective layer, making the whole external light reflectivity of only 0.4%. Lower reflection loss means higher contrast.